How to do Keyword Research
How to do Keyword Research? – To start doing keyword research you should first inderstand what are keywords?
5.1 What are Keywords?
Key Word – Important Word – Yes, it is an important word for us – in SEO.
They're the words or phrases that users/searchers enter into the search engines.
Keywords can also be called as "search queries." or Search Terms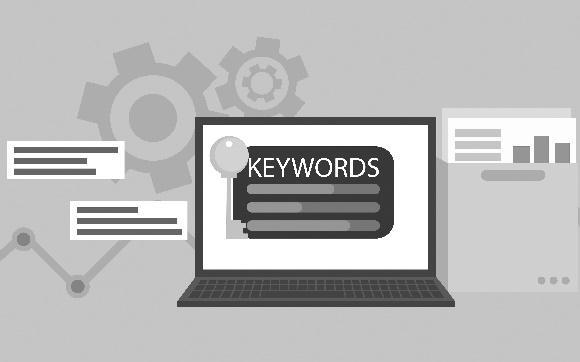 On How to do Keyword Research? we have already understood what keywords are, now let us look at different types of keywords.
5.2 Types of Keywords.
Based on SEO, there are mainly 3 types of
1.Generic Keywords or Short Tail Keywords.
These are very generic, unspecific terms – Intention is unclear.
"Tennis Shoes" or "Digital Cameras"
Highly competition, High Search Volume.
May or May not fit your content/business objective
Broad Match keywords or Medium Tail Keywords. More specific
"Red Tennis Shoes" Or "Canon T2I Digital Camera"
Comparatively Less Competition & Less Search Volume
Might Align With Your Business Objective
3.Long Tail Keywords
Very Specific & Intention Is Very Clear
Canon T2I Digital Camera Cost In Hyderabad.
Very less competition & Very low search volume
Low traffic but can expect very high conversions.
Keywords Based On User Intentions
Now based on the intention of the user, keywords are further divided into 4 types.
Transaction Keywords
The purpose of the search is complete a transaction.
Buy something, Download something.
Informational keywords
They seek information. The weather in India, 1 USD in INR.
Geo Location Based Keywords
Location Specific Keyword
Digital Marketing Training in Hyderabad, Training institutes in Ameerpet
4.Navigational Keywords
The search is aimed at finding a specific web – Direct Traffic source.
Amazon, Facebook, twitter.
3 How to do Keyword Research?
 How to do Keyword Research – Keyword research is the process of finding/identifying the most relative keyword for your business that has a good search volume and less competition.
Finding those juicy, low-hanging fruit – the long-tail keywords.
5.4 What is Keyword analysis? – How to do Keyword Research?
Keyword analysis is the process of finding the right keyword (Business Keyword that can earn money for you) with the highest possible search volume and lowest possible competition so that you can rank on the top easily.
5.5 How do you find that right keyword?
First, think from the user perspective and List down the search phrases that you think user will search for when he wants the solution that you are providing in your content.
As you start typing these search phases on Google, Google can give you the suggestions/actual long tail keywords that users are searching for.From Google's prompted keywords List out the keywords which are related to what you offer and put them on an Excel Sheet.
Pick a keyword from these suggestions and run a search on umber Suggest to find the search volumes and more keyword suggestions.
5.6 What is Search Volume? – How to do Keyword Research
Search volume can be defined as the number of times a keyword is being searched for on an Average per month.
Copy all the related keyword ideas and their search volumes/SEO difficulty level that umber suggest gives you on the excel.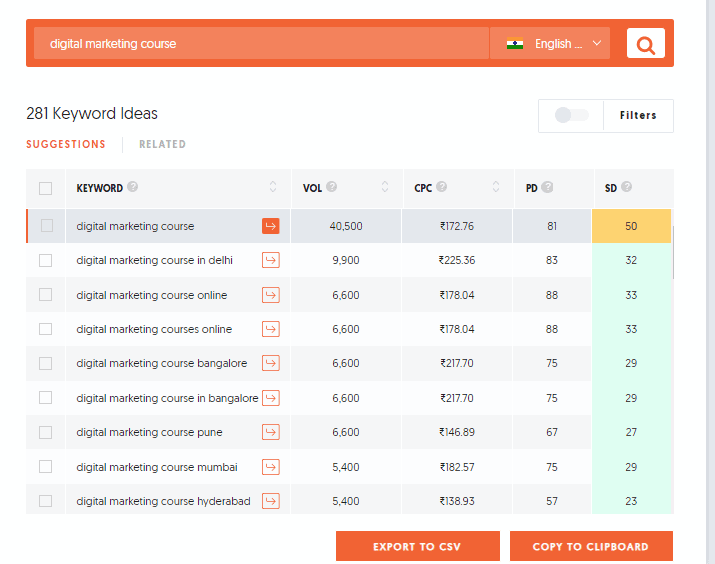 The first column keywords give us the suggested keywords and the second column Vol indicates the search volume of a particular keyword.In the above screenshots you can find the keyword suggestion for Digital Marketing Course.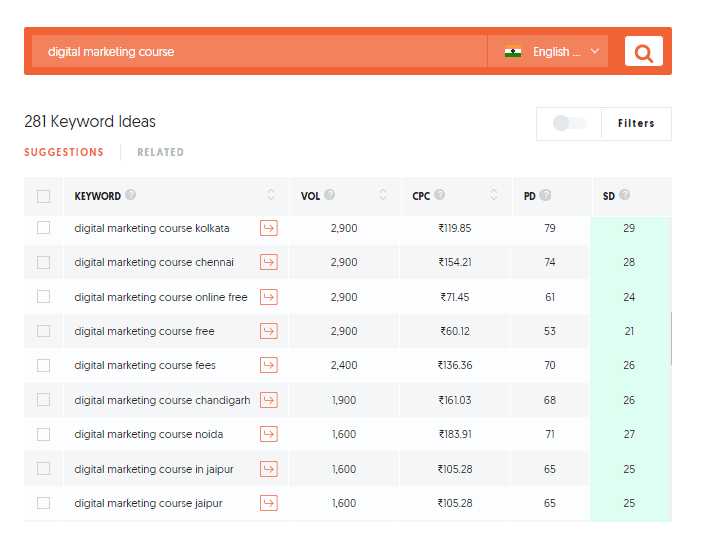 Here while picking keywords from the suggestions list our primary metric is search volume. It should be high. Higher the search volume more the chance of getting the high traffic to our website.
After creating a list of related high search volume keywords we need to do competitor analysis before we finalize the best keyword for our business.
How to do a competitor analysis?
first keyword in the list and paste it on the Google search. It displays the search results for that particular keyword.
Go down a bit and you will SEO results. This is where you need to observe the title and description of the webpages list on the SERP page.
What to observe in SEO Title and Description?
Does the SEO title contain the same keyword?
Does the description have the same keyword?
As you could only see these two (Title & Description) on the search results page, observe these two.
In case you find the keyword in both title and description in the 1st SEO result go down and look for the same in all of the all pages' list in SERP page.
In case you find a page which is ranking on top doesn't have a keyword in its Title or Description then you can pick this as your targeted keyword since it will be easy for you to rank on the top.
Why am I saying this?
Having the targeted keyword in SEO title and description is the first and the important thumb rule to follow in on page SEO.If you could see someone who is ranking for a keyword which suits your business doesn't follow the rule of having the keyword on their title and description, then it will be a definite advantage for us to dethrone your competitor in search ranking positions.
What if you find the keyword in their SEO title and description? That means they optimized well for that keyword and it will very difficult for us to rank for that particular keyword.
In that case, you need to repeat the same process for the rest of the keywords in your list until you figure out the best suitable keyword for your business.
Google Search