By Ravi Varma – Updated on 2nd Oct 2021. – 4 mins Read
– Is the Screpy Appsumo Life time deal worth Buying?
I have purchased Screpy from Appsumo, using it now and have clear idea of how it works.
I will be sharing my honest experience using this tool along with use cases, what I liked, what I disliked, Pro and cons;
This review will answer all the questions you may have regarding screpy and will help you decide whether to buy or skip.
Screpy – Powerful AI Based all in one SEO Tool Set
Screpy can replace multiple other tools for you. It is easy to use, clean and powerful AI Based tool. The best part is, its an all in one seo tool.
It can replace your Google Rank checker tool.
It can help you Monitor your Page Seed Analytics.
Care about Light House Metrics? – Its provides LightHouse moitor too.
It can also do W3C Monitoring to help you fix the W3C compatibility errors
It also gives you Website Analysis
The best part is that all of this in a Single Dashboard.
WHAT I PERSONALLY LIKED IN SCREPY
I liked the ease to use the tool.
Live tracking of all the websites.
All projects can be tracked from a single dashboard.
Keyword Rank tracking from Google.
Page speed increasing tips and insights.
Shows priority levels of tasks to be performed.
Auto generation of tasks.
Team feature to collaborate and work.
Below is the list of tools which are alternative to Screpy
These are the top 10 alternatives of Screpy according to me
Screpy starts with $9/month when paid annually. After a Free trial.
There are various plans to choose from mainly categories are lite, Pro, Advanced, Agency.
Lite plan is suitable for individuals if you have 1 project and you don't have a team to add. 
From the pro plan you get the feature to add your team members for functioning of tasks.
The monitoring feature frequency is also increased as the plan upgrades.
Agency is the best plan if you have a big team to assign tasks.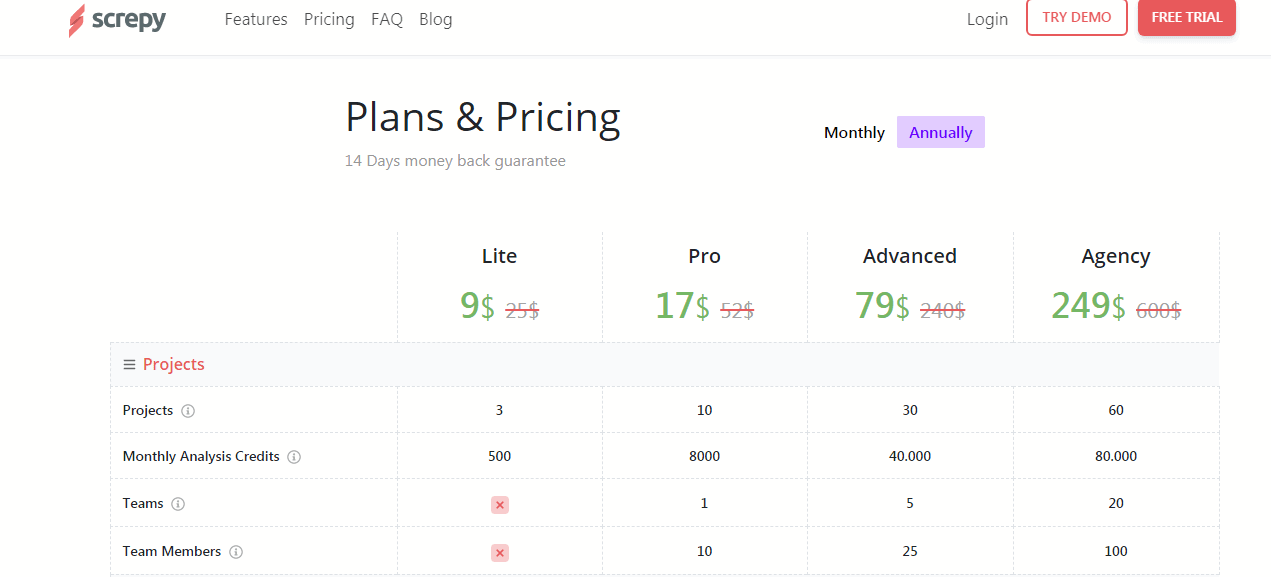 Why pay monthly when you can get it for one time cost. Want to know more details?
SCREPY REVIEW: HOW I WILL USE
I have used it for tracking projects by simply adding it in Screpy. I must say this is a time saving tool, it shows me all the websites health score and task priority part which I love in this tool. It helps to work on the tasks which have high priority.
This tool also helps to increase the speed of websites. Rectifying all small errors and more used things like oversize of DOM and such other errors.
The complete guidance for a healthy website to be safe from google penalties. This is the highest recommendation at such cheap rates. You get a featured loaded tool at such a low rate.
Add all your projects with particular keywords for better tracking live and constant tracking.
Add team members for tasks.
Use the e-commerce pro tips from Screpy.
If you want an affordable tool for all your website tasks Screpy is the best option.
Available at ONE TIME COST in APPSUMO – GO BUY IT NOW
Comparing to the other tool this one helps you to see all your project performance under live monitoring feature.
14 day money back guarantee is also an win-win situation if you like it upgrade to premium plans or else 100% money will be back.
And the add-on advantage is still developing. You can see many other features coming in future.
Buying it right now will save money and a tool which is already mind blowing with AI.
This is the deal you can't afford to miss
Here are some informative blogs links for learning:

First signup it will take you to the dashboard.
At the top you will get to see many icons available which are – Rewards, Notifications, Teams & your account details.
If you click on your account you find many options to add LTD coupons, subscribe, logout, creating teams, settings, support.
Add projects for which you want to track.
Right below the header you will see the add projects icon from where you can add your projects/websites.
On the top left side you will find three icons sharing project option, option to analyze the project right away, and the third will take you to the account settings.
Below that you will see Projects icon by clicking on it you get the reports of all the projects.
If you are using the lite version you can add only one project.
All the projects which are added will be seen in a single page.
Every project details can be seen which includes overall score of it.