Too many social media platforms and lots of posts to drop? Stressed how will you manage everything?
Not anymore, because social media managing tools are here for your rescue! One of them is – Publer
Publer is a social media managing tool that helps you post on social media platforms with ease.
This tool manages to post on Instagram, Twitter, Facebook, and other social media platforms all at once in a blink.
Here is a complete honest in-depth review of Publer
This article will also be your complete manual to publer, featuring:
Publer Review: Purpose of the Tool
Publer is a social media managing tool that helps you manage the content of all the posts across all the social media platforms.
Publer tool has many built-in features and functionalities like :
Let us now see how to use all these Publer's Superpowers to make your content look rich and how to connect with your social media accounts effortlessly.
How to add your social media accounts to Publer: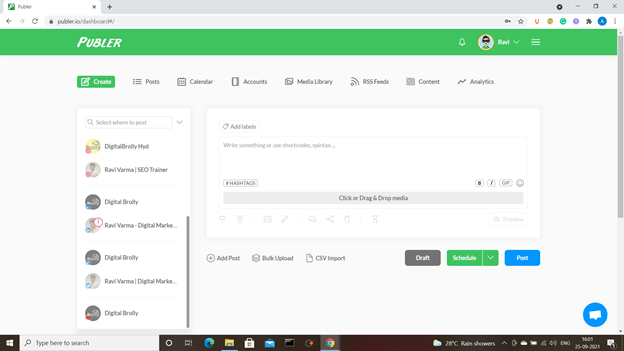 On the left side of the dashboard, there is an "add account" option where you can add your Instagram, Twitter, Youtube, Linkedin, and Google Business accounts.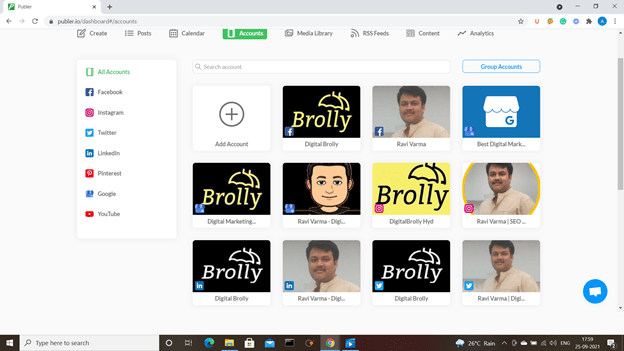 Here, all your connected social media accounts are shown.

How to post content across the social media platforms using Publer: (video of post content across the social media platforms)
You can select the social media accounts to which you want to post the content, add the content and media if required, and then click the "post" option.
Publer also provides other features when posting content on social media platforms, that make our work very easy.
Customize the posts :
Let's suppose you want to post the same content across different social media platforms, the problem you face here is that different social media platforms have different criteria.
For example, your google business is restricted to 3 photos, Facebook can have multiple images, Twitter is again restricted to few photos.
Manually this is very tiring, as you copy and paste the content from one platform to other leaving many tabs on your desk.
Now to be able to manage these publer allows users to customize the posts accordingly.
(video process)
You can add or remove the content and photos across the different social media platforms from one point.
Creating videos and images:
Publer has collaborated with Canva and Crello, to enhance the photos and videos used to post on Social media.
It has integrated Canva and Crello buttons in the UI.
This will help you to create videos and images with much better quality.
Canva is a well-known tool that has different templates which make your task easy to create visual content, social media graphics, and others, right from the scratch without any professional editing skills for all your business postings and make them more engaging and attractive to the audience.
(video of using Canva)
Crello is one of the most used digital marketing tools to create impressive and attractive marketing video content. You can add music to the video using this tool.
(video of using Crello)
Integrated with publer, users can enhance their video quality on the social media platform.
You can even get rid of editing in Canva and Crello, then saving them in local storage and again importing in Publer by just connecting those accounts to the Publer app.
This is such a cool integration, you don't need to worry or hire professional graphical designers for designing professional images and videos. Publer does this work for free.
Hashtag Suggestions :
In 2021, hashtags became such an important component, that no social media content is now posted without a cool trending hashtag.
Also, somewhere, a social media post going viral depends upon an engaging hashtag that helps in the visibility of the brand/product/service.
Choosing hashtags, or knowing the trending hashtags which make your brand/service/product stand out from others is also a challenging task.
Don't worry! Publer will do this job for you.
Publer provides relevant hashtag suggestions which will make your posts look professional and engaging.
All you have to do is write the text or drop the images/gif or any website on the dashboard and click the hashtag button. A drop-down list with all the relevant hashtags is shown. Choose the hashtag you desire.
Watermarking photos and videos :
Your content is so good that someone illegally copied it and took all the credit. You can now stop this by adding digital watermarks to your photos and videos and make them unique from all your competitors.
Publer automatically enables watermarking features by adding a small or transparent watermark/symbol/logo on your post without any interruption to it and also helps in growing brand awareness.
There are plenty of online or downloadable watermarks available in publer.
You can also create your watermark with publer.
You can add the watermarks by clicking on the "click or drag & drop your logo".
Like every amazing thing doesn't come for free, this watermarking feature is available in paid pricing plan of the publer.
Shortcodes:
You can now save time by including shortcodes instead of writing addresses, numbers, and other content repeatedly in the dashboard with Publer.
Creating Shortcodes/Shortcuts: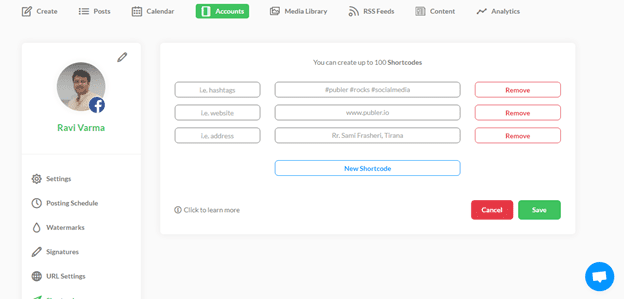 Using Shortcodes/shortcuts :
And the good news is that this feature is Free! Free! Free!
These 3 features make the publer a pre-eminent tool in social media marketing to manage social media posts.

❖ SCHEDULING POSTS
Scheduling is one of the key features of the Publer Tool. This Scheduling feature was crucially designed to omit the manual tasks of Scheduling the content and then posting them according to your planner.
This Superpower has your back to auto-schedule all your bulk content by providing your planned time slots to the tool.
(the video process of Scheduling the posts)
Process of customized, duplicates, admins can use at a time, deletion of time slot
(video process to preview)
All the busy social media managers out there, struggling with daily postings?
Then this super-helpful feature is just for you!
you can use this superpower of Publer to maintain a planner of your posts to organize, schedule, bulk Schedule, and keep track of your past, future, and present posts with the "Calendar View Mode" of Publer.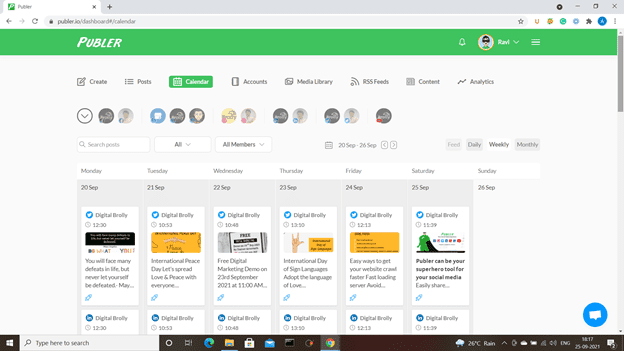 This will increase your productivity and helps you filter, preview, manage, and plan your posts according to holidays, and other perspectives.
❖ COLLABORATION OF TEAM
"Better many than one" – only posting the content on the social media platforms doesn't get the job done, also if you are a social media marketing agency that manages the social accounts of multiple clients then this feature is for you.
This feature enables the owner to create a team to manage the social media posts on different platforms.
The owner can give access to other team members to analyze, post, approve, and others.
These will again depend on your pricing plan of publer.
In the free pricing plan, you are restricted to create additional teams(more than one), but in the paid plan you can create more than one team.
Each team is restricted to one owner, admin, and editor depending upon the pricing plans.
(the video process of creating teams)
The team Permission table of the Publer tool is shown below:
❖ ANALYZE
Here comes another superpower of publer. Analyzing the Social media posts.
As the foremost focus of a social media manager is posting the best content on social media, it is equally important to know the reach and engagement of the posts. This superpower will show your accounts and posts insights that are posted only through publer.
From these insights, you can enhance the posts and your social media accounts accordingly.
(video process of analytics)
Publer gets the day-to-day insights of your posts, and the top 3 posts of good reach & engagement are mailed to you.
But the metrics of each social media insight may be different, they may be available for free or paid and few are not defined by the publer So I feel that this may somewhere create a problem/glitch in the future. But if the publer updates these metrics, it would be a great tool to analyze the posts or accounts.
Publer also has a browser extension, that can be pinned on the right corner of the browsers and can be accessed with just one click.
This publer browser extension is available in different browsers like Safari, Chrome, Firefox, and Microsoft Edge.
You can post the images/ share the images, gifs, videos directly from the browsers to different social media platforms like Pinterest, Google Business, Instagram, Facebook, Twitter, and Youtube through publer extension without the need of opening the publer tab.
The extension can be accessed directly by clicking on the publer plugin on the browser or by pressing shift+command+zero on the keyboard.
I think this extension is such an innovative approach by publer, as it saves time and also the local storage of the devices.
And guess what! Publer browser extension is available for FREE on all browsers.
PRICING PLANS OF PUBLER:
The social media managing tool- Publer is available for both free and paid.
The free version of publer is restricted to only a few features of the tool, yet the paid version of the tool is at a very affordable price.
There are two paid plans available in the publer – Argentum (silver) and Arum (gold) with free 7-days and 14-days trials.
The Argentum (silver) plan has few limited features when compared to the Arum (gold) pricing plan.
Publer offers monthly, 3 month, and annual pricing plans that will save you 15%, 17%, and 20% of discounts.
The features available in free, Argentum (silver), and Arum (gold) plans are shown below:
Publer's UI is a user-friendly setup with dashboards and it allows you to connect with your social media accounts with ease.
The app looks very easy on the eyes, organized, and implemented for your needs
It provides you with effective interaction, clean design, and responsiveness. Publer UI has all the user expectations satisfied with effective visuals.
Publer identifies the suggested points and figures them out to satisfy your needs to provide you with the best user experience.
Publer takes your suggestions and plans the updates on the majority of votes.
As you can see, Publer has a "make a suggestion" option that enables you to provide suggestions to improve and enhance the publer app. You can also vote on the suggestions given by others.
Publer back-end heroes prioritize, analyze the future ideas, and decides which feature to release, restructure or remove as per the suggestions of Publer users.
It always focuses on the long-term development of the tool.
This is the publer's 2021 road map depicting Andriod & IOS mobile app launch, Scheduling of WordPress posts, Ads Support, and other new launches, updates, releasing of restructured features in 2021.
COMPARSION OF PUBLER WITH OTHER SOCIAL MEDIA MANAGING TOOLS
There are many other social media managing tools like
PUBLER WITH ODOO SOCIAL MARKETING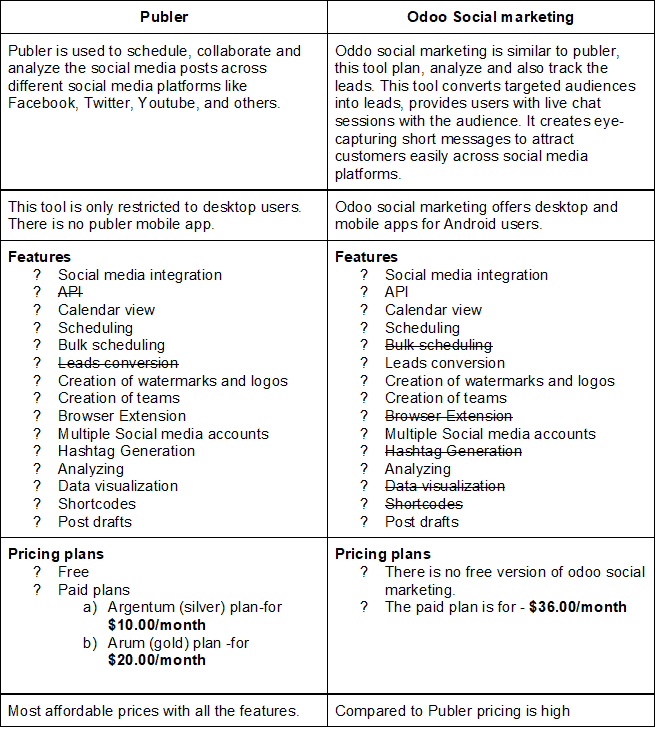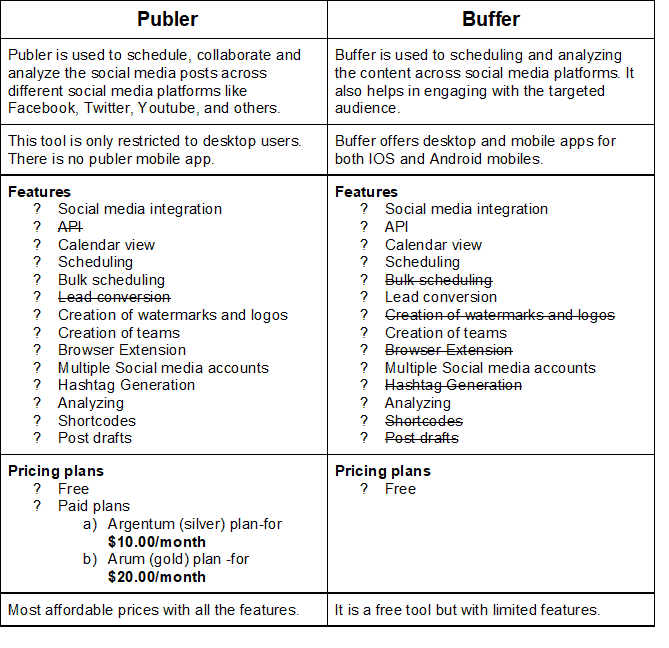 Q. 1 ) What social media networks does the publer support?
Ans : Publer supports Facebook, Google business, Instagram, Twitter, Youtube, and Pinterest.
Q. 2 ) What platforms can the Publer run on?
Ans : Presently, Publer is a web-based, Saas, Desktop app.
Q. 3 ) Does Publer offer customer support to their users?
Ans : Yes, you can contact the publer team anytime through email, and their social media networks.
Q. 4 ) Who can use the Publer?
Ans : Any Business owner, Freelancers, Digital Marketers
Q. 5) What is the refund policy of the Publer?
Ans : Publer has the free version and the other 2 paid versions with 14-day free trials. If you wish to cancel the plan after the 14-day trial, you can opt for a refund. Publer refunds the paid amount to your bank accounts.
Q. 6) Can I cancel the Subscription anytime?
Ans : Yes, you can
Q. 7) What Payments methods do Publer accept for the Subscriptions?
Ans : Publer accepts all credit cards, PayPal. Also, Publer adds VAT to the Subscription amount before billing.
Q. 8) Does Publer offer any discounts to non-profitable or charitable companies?
Ans : Yes, with the proof of relevant documents, Publer offers a 50% discount to any charitable or non-profitable companies.
Q. 9) Does Publer provide a free demo trial to its users?
Ans : Yes, it provides a free demo trial. You can access that from the login page of Publer.
Q. 10) Does Publer offer discounts to paid users for maintaining different social accounts?
Ans : Yes, the 10th social network account will be free of cost.
Q. 11) Is there any affiliate program by Publer?
Ans : Yes, there is an affiliate program offered by a Publer. You can visit the ambassador link of Publer and join themas an affiliate.