Free Google adwords tutorial 2020:
What are inorganic search results?
If your website is ranking on a search engine by paying money and running ads on that search engine then we call them as inorganic search results.
On Google:
If Paying money to Google through ads (former Google Adwords) to show your website Ad on search results then we call them as Inorganic search results or paid search results.

Why Paid Results?
We all love SEO because it can bring us traffic for free of cost, but SEO is a long term process and can't give you immediate results.
So we go for paid advertising because:
1. We get Quick & Instant Traffic
2. We can choose the right set of Target Audience
3. Can boost your online sales/traffic
Introduction to Google AdWords:
Google AdWords
Google AdWords is Google's online advertising service where Advertisers pay to display their ads on Google Search Engine Results Page (SERP) and other relevant Google Partner websites.
Advertisers pay when users actually clicks on the ad, hence we also call this as Pay Per Click (PPC Method of Advertising).
PPC method of advertising
Pay-per-click (PPC)
It is an advertising method where advertiser pays the publisher when the ad is clicked.
We do it generate more traffic to the website.
Why Should you use Google Ads?
1. You can reach your potential customers when they are searching relevant keywords.
2. Google Ads a targeting system that helps you show your add to the right people, at the right time at a right place.
3. Targeting factors Available on Google Ads:
a. Specific interests
b. Keywords
c. Ad Location – Search engine, Personal or commercial websites.
d. Demographics – Age, Location, Language, Day, Time
e. Devices
2. You have complete control on your budget, you can decide how much to spend each day and for how many days. No minimum
3. You can pause, resume your campaign, make changes to it whenever required.
4. Google Ads has a reporting system that helps you measure, analyze and act to make your campaign a better performing one.
Understanding users intentions based on Keywords:
It is very important that we understand the user intentions based on the keyword searched for:
We can classify users intentions into 4 types:
1. I want to know – Looking for information
2. I want to go – Looking to navigate – to a particular location, business or a website.
3. I want to do – Willing to learn how to do something
4. I want to buy – Looking to make a purchase or a transaction.
You just need to make sure you have the right solution for his intention.
The solution you need to offer:
1. I want to know – You can provide the information they are looking for.
2. I want to go – You can guide them to their destination.
3. I want to do – You can teach, show or demonstrate on how to do it.
4. I want to buy – You can sell to them
Where do Ads Appear?
Google Ads has 2 networks.
1. Search Network
2. Display Network
Search Network:
covers Google Search (SERP), Google Maps & Google Play and search sites that partner with Google.
Display network:
covers google sites like YouTube, Gmail, Blogger and third party sites/blogs that are partnered with Google.
Selecting the type of Campaign as per your business objective:
There are 6 types of campaigns in Google Ads.
1. Search Campaign – Gives Traffic, Conversions/sales
2. Display Campaign – Gives Brand Awareness
3. Search Campaign with display opt-in – Gives Traffic & Brand Awareness.
4. Video Campaign
5. Shopping Campaign
6. Universal App Campaign
Search Campaign:
• In search campaigns ads will appear on SERP (Search Engine Results Page) and other Google sites when people search for the keywords relevant to your Ad.
• Used to find High Potential customers with the right intention when searching for a keyword.
Display Campaign:
• Ads Appear throughout Google display network
• Matches your ads to websites or mobile apps that include content that's related to your business or to your customers' interests.
• You can target based on topics, interested audiences, demographics, and more.
• Used to create Brand Awareness.
Search with display opt-in
• This will show the text ads on the search results page and on relevant places on the Display Network.
• Search Ads will run on both the Search and Display networks.
• Helps you reach potential customers and also creates brand awareness.
Video Campaign
• With this Video campaign you can run video ads on YouTube and also on different sites across the Google Display Network.
• Types of Video Ads include:
• True View in-stream ads,
o True View video discovery ads
o bumper ads.
Shopping Campaign:
• Shopping campaign is useful for retailers who want to promote their products (Both online and local stores).
• Shopping campaign also boosts traffic to their website or local store
• You will see shopping Ads in SERP and other search partner websites.
Universal App Campaign:
• Universal App campaign is used to promote your mobile apps across Search, Display, and YouTube.
• Your ads and bids are automatically adjusted to get the most downloads for your app.
• To get more app downloads the system will test different combinations and display the best-performing ads often.
• You need to provide text, a starting bid, budget, and include the languages and geographic locations for your ads
Types of Ads in Google Adwords:
1. Text Ads – Search network & Search partners.

2. Text Ads with extensions – Search network & Display network [depends on Ad Extension]

3. Responsive Ads – Display network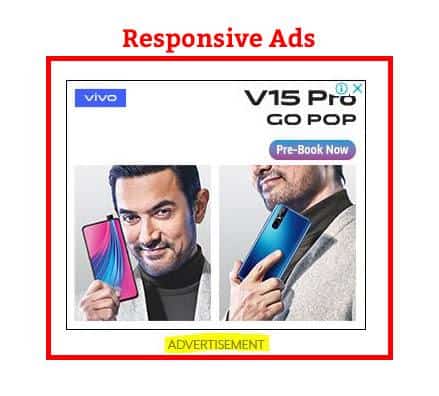 4. Shopping Ads – Google Shopping, Google Search, Search Partner websites.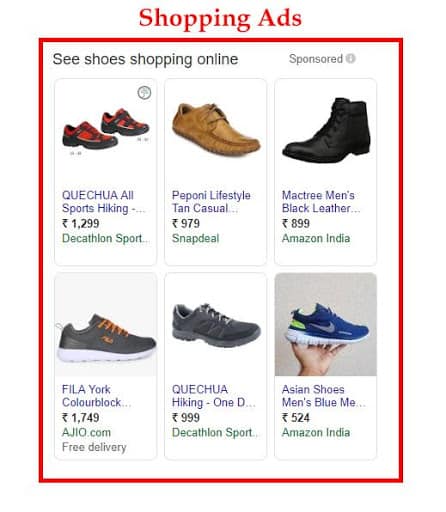 h3 class="blog-sidehead">5. Image Ads – Display network, Search network* (but not google search)

6. Video Ads – Display network, Search network* (but not google search)
7. App promotion Ads – Search network, Display network.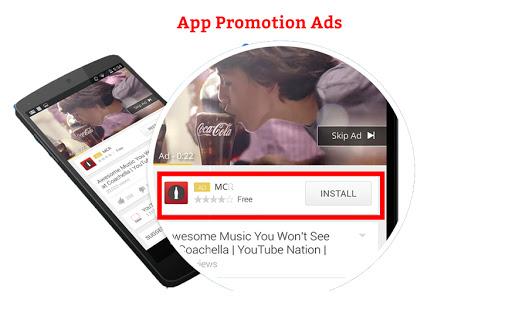 8. Call only Ads – Search network.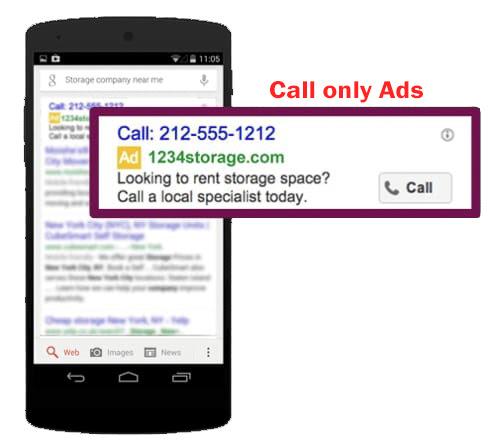 9. Rich Media Ads – Display network.
How to Create a Text Ads
Text ads are simplest and the most powerful types of Ads. The text ads contains 3 parts:
1. Heading
2. URL
3. Description
Text Ad Heading:
• Your heading is what people notices. Having a good heading is very important for your ad clicks. If your heading is catchy and influencing the users to click on it, then you get better CTR(click through rate)
• Ad Text Heading has 2 fields – Heading 1, Heading 2 and an optional Heading 3
• Each Heading can be filled up to 30 Characters.
• Lookout for the mobile readability of your add. Long headings can be combined via a hyphen "- might wrap on mobiles.
URL:
• URL displays the website address that the user will land, when clicked on the Add
• If final URL is www.digitalbrolly.com/digital-marketing-course-with-internship your ad's display URL will show as www.digitalbrolly.com
• While the path fields are optional, you have 2 optional URL fields path 1 & Path 2 that can be used up to 15 chars.
• Example: www.digitalbrolly.com/digital-course – Appears like this but still the user will land on the final URL given in the URL Field.
Description:
• Description field takes up to 80 characters.
• You should use description to highlight unique details about your product or service.
• Make sure you include keywords that match probable search terms.
• On mobile devices, since the space is less, Google Ads optimizes your ad to show the highest-performing text.
How to create remarketing lists in Google Ads using Analytics:
1. Types of remarketing
2. Link GA & GAds
3. How remarketing tags work?
4. Basics Ads setup using remarketing lists & rules
5. Dynamic retargeting
6. Custom dimensions.
7. RSLA
Key Terms in Adwords –
PPC, CPC , Bidding, Ad Rank, Quality Score, CTR
Quality Score:
A quality score is a measurement from Google based on the relevancy of your ad headline, description, keywords and destination URL to your potential customer seeing your ad.
We can get better ad placement, lower costs with a higher Quality Score .
Bidding:
The bid strategy is basically how to set up bid type to pay for viewer interaction with ads.
Ad Rank:
Ad Rank is used to determine where ads are shown up on a page. Mostly, it will be based on Quality Score and bid amount.
Click Through Rate (CTR):
CTR is an important metric in account settings. It measures how many people who have seen ad click through to our link destination
Understanding Adwords account structure
The three-layer design of AdWords account will help to organize ads, keywords, and ad groups by understanding the relationship between them and helps in maintaining effective campaigns that target the right audience.
AdWords has 3 layers:
1. Ad Accounts,
2. Campaigns
3. AdGroups.
Account:
The account in AdWords is associated with a unique email address, password, and billing information.
Campaigns:
The campaigns have budget and settings that determine where their ads appear.
Ad groups:
The ad groups contain a set of similar ads and keywords.
Setting up Google AdWords account
Steps to set-up Google Adwords account
Step 1
To set up an account, search for www.adwords.google.com.
While creating google Adwords account we will have a option to choose an existing gmail or setup a new account.
Creating a new Gmail account is more preferable, instead of using personal account for this Google AdWords.
Step 2
Now set time zone and currency preference before the account is established.
Step 3
At last we can set up billing information, in adwords we have two types of payments option.
Automatic payments allow us to pay after accruing clicks. We will be charged upon reaching our billing threshold or 30 days after our last payment, whichever comes first.
For manual payments, we will prepay AdWords and charges will be deducted from the prepaid amount. All advertising will be suspended once prepaid account balance is diminished until you make another payment .
You can choose on how to make payments, you can do it from a credit card or a bank account. Be aware that google must approve your bank account first, that will take some time.
How does AdWords rank ads
AdWords in Ad Rank that plays a major role in determining how ads are displayed in a SERP and also about cost-per-click key is described with the
AdWords marketing concept.
Understanding bids
AdWords gives bid for ads in several ways depending on business. The most advertisers focus on impressions, clicks, conversions and views.
Types of Advertising campaigns
Advertising campaign
An advertising campaign is an advertisement message which shares the information with an integrated marketing communication (IMC).
An IMC is a platform which is used for formation of one large media group with the help of a group of members to group their beliefs, ideas, and concepts.
Advertising campaigns are used to target identified audiences on utilizing diverse media channels in a particular time frame and target.
Integrated Marketing Communication: Integrated marketing communication is used to develop a strategic plan for majority of organizations to broadcast their marketing and advertising campaigns.
Media Channels:
Media channels are generally used to establish a connection with your targeted consumer.
Some of the examples of traditional communication methods include:
Newspapers, Radio, billboards, magazines, telephone, television, post and door to door sales
The advantages & disadvantages of traditional media channels: In marketing and advertising environment there is a rapid change, targeting the particular group consumers or audience through traditional media channels has blurred.
These traditional media channels are explained as broadcast, print, out-of-home and direct mail.
Target Market:
Before launching any advertising campaign by an organization, they must take a research on all aspects of their targeted market and targeted consumers.
The target consumer can be simply explained as group of people who want to buy a product from particular organization.
Positioning:
In this advertising, competition taken by various brands to overtake the believing of consumers on usage of particular products. Mostly the consumers view the advertising and ranking of particular brands with the competitors.
The consumers gives their rank individually according there usage and how important to them.
Communication Process Diagram:
An advertising campaign uses the communication process diagram to ensure all the appropriate steps of communication are being taken in order.
Touchpoints:
In an advertising campaign, the Touchpoints explains about multisensory touch points for a specific brand. These touch points helps to develop a bridge between organizations and the consumer of a particular the brand .
Creating Search Campaigns
1. Sign in to your AdWords account.
2. Click the Campaigns tab.
3. To select search network, click the dropdown menu.
4. On the "Select campaign settings" page, choose Dynamic Search Ads. Then enter your campaign name. If you want to use additional features, which are only available in the "All features campaign type, you can configure a Dynamic Search Ads campaign under that campaign type.
5. Enter domain and select the language corresponding to the pages you want to target your ads.
6. Select your targeting preference. Either target your ads based on Google's index of your website or target them based on a spreadsheet of URLs.
7. To select your target geographic locations, expand the Location options.
8. For your bid strategy, choose an automated bid strategy if you want Google to optimize your bids. We recommend the target CPA or enhanced CPC options.
9. Enter your default bid and budget then click Save and continue.
Understanding location targeting
Location targeting:
A setting that helps you show your ads to customers in a selected geographic location. For each ad campaign, you can select locations where you want your ad to be shown. Then, location targeting allows your ads to appear for people in those locations.
Different types of location targeting
1. We will be provided with an option to select the locations where to show our ads, for each ad campaign.
2. Then, location targeting allows our ads to appear for people in those locations.
3. We can choose locations according to where we want our ads to shown like within a country, out of the country, or within the business location.
4. Location targeting helps us to focus our advertising on the areas where we will find the right customers, and will hopefully help us to increase our profits as a result.
5. Keep in mind that we can also select locations to exclude in our campaigns if we don't want our ads to show in specific regions.
Understanding different types of bid strategy – manual and Auto
Manual bid strategy:
This is the classic setting for having total control over bids with a focus on driving click traffic. AdWords will take the ad group default bid first unless a different bid is manually specified at the keyword level.
Auto bid strategy:
Automated bidding is used to meet the performance goals to set bids that takes the heavy lifting and guesswork out. Each type of automated bid strategy is designed to help us achieve a specific goal for our business.
Advanced level bid strategies – Enhanced CPC CPA
Enhanced CPC:
This bidding option is for the conversion-focused advertiser. AdWords will automatically increase or decrease CPC bids to drive most conversions, based on the conversion tracking of the data. This entire process is carried out when Conversion tracking is enabled.
Enhanced CPA:
CPA mainly focus on conversions at a specific cost-per-acquisition. This is also known as Conversion Optimizer.
Understanding flexible bidding strategy
Flexible bid strategies helps to meet certain goals across set ad groups, campaigns, and keywords set bids automatically with the optimization.
Once you have created a strategy, it will be shared in your Shared Library in Google AdWords, making it accessible from one spot and making performance tracking easier.
Pros & Cons of different bid strategies
Flexible bid strategies:
Pros
Flexible Bid Strategies allow you to set objectives, manage the objectives in wide strokes, and free up the rest of your time to fine tune particular keywords, ad groups, or ads.
Cons
The nature of the top page is estimated as backbone to Target Search Page Location bid strategy, this makes the disadvantage of flexible bid strategy.
Manual bidding strategies :
Pros:
Quick reactions:
we see there is a sudden drop in the performance when monitoring our account, this is due to increase pushing CPCs by new competitors. To overcome this we must quickly push bid changes for the keywords that have been performing poorly to combat the situation at hand. There will be a huge advantage to react quickly on online environment change.
Control:
we can be able to find the bid on the individual keyword level and also describe about our aggressive nature on bids in the specific level, with this bids strategy.
No delay in changes:
Manual bidding ensures that your changes are in effect without.
Cons:
The larger the account, the larger the challenge: the big spending accounts that house thousands of keywords get more and more difficult to effectively manage on a granular level.
Chance for inefficiencies:
having a day-to-day view of the account can potentially prevent a marketer from seeing the "bigger picture.
Bidding can eat up your time:
For pay per click managers, adjusting bids manually without using bid management software can make a full time work.
Limited segmentation options:
if you want to bid certain campaigns or ad groups similarly, you are limited to a certain account structure. you have the flexibility to structure your account with the automated bidding.
Automated Bidding
Pros:
Versatile segmentation: This is done based on a categorization of custom folders the ability to segment our campaigns and ad groups.
Efficiency:
Automation can give you the freedom of bandwidth to manage your big accounts on a macro level and focus instead on growth opportunities or account strategy while also keeping tabs on everyday performance.
Ability to handle large or complex accounts:
It can be challenging to manage all of the thousands of keywords within large or complex accounts, so automation can help in efficiency gains.
Cons:
Traffic and conversion suggestions: When we have a traffic and conversion to our site, the process of switching over to automated bidding is advised.
Automation does not mean hands-off: By using these platforms, you still have to actively keep tabs on your account and pull levers on a regular basis to make sure these tools are effectively performing the way you intend them to.
Potential delay in changes: Since you make changes in the platform and not directly in the UI, there is an extra step of syncing your changes to the channel. Once in a day, the synchronization of most platforms will be done automatically.
If we set our campaigns to manually synchronization, then we have to make changes frequently. Once if we forget to do manual sync then there may be no effect until the platform's next scheduled sync.
Be wary of aggressive changes: When the optimization is done using a bid management tool, the aggressive nature is not good while adjusting targeting because to develop algorithms requires time. This sudden changes may negatively affect the performance.
Understanding ad-extensions & Types of ad-extensions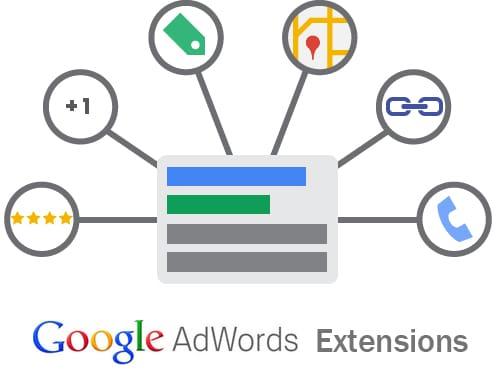 Ad Extensions is added to Adwords text ads about our business of relevant information are extra snippets.
These can include your business' location, phone number, business ratings, and more.
Types of ad-extensions
Ad extensions are classified into two types:
1. Manual ad-extensions
Manual Ad Extensions are used to provide additional information about the product or service which are customized according to add-ons on the search ads. This manual ad-extensions are used to display specific call to action buttons such as click to call and app downloads.
1. Improve Quality Score and Ad Rank
2. 10-15% Increase in CTR
3. Free real estate = More Clicks
4. There's no need to guess what works best
5. Without removing ad extensions, the Cost Per Click with bids must be controlled.
6. Make your extensions as relevant as possible
7. Use the change history report
8. Ad extensions on mobile have a huge impact on CTR
9. Let Ad Hawk do this for you.
2. Auto ad-extensions
To create an extension, automatically the data is pulled from various sources for the ads by Automatic Ad Extensions.
Since you cannot control automatic ad extensions, we advise you use Manual Ad Extensions to replace automatic extension and control your ad's messaging.
1. Consumer Rating Extensions
2. Previous Visit Extension
3. Seller Rating Extensions
4. Dynamic Site link Extensions
5. Social Extensions
6. Dynamic Structured Snippets
Adding ad-extensions in our campaign
1. Site links extensions
2. Location extensions
3. Call extensions
4. Review extensions
5. Callout extensions
Site links extensions:
Site links extensions allow you to show additional links to your site below the regular ad copy.
Location Extensions:
Location extensions improve local ads by allowing businesses to show their address, a phone number, and a map marker. To get directions to the business, direct link is provided in mobile ads for searchers.
Call Extensions:
With the AdWords call extension, you can add your phone number to Google ads. By using this call extensions the searchers can make call to business through mobile devices easily.
Review Extensions:
Review extensions are really exciting and allow you to use third-party reviews in your ads.
Callout Extensions:
Callout extensions are another exciting extension that allows you to add more text to your ad. With callout extensions, you can add short blurbs of text that help your ad to stand out.
Creating Ad Groups
1. An ad group lets you target and organize your ads Within a given AdWords campaign.
2. How to create an ad group
3. Sign in to your AdWords account.
4. Click the Campaigns tab.
5. Under All campaigns, click the name of the campaign that you'd like to add an ad group too.
6. Click the Ad groups tab.
7. Click the + Ad group button.
8. Follow the instructions to complete your new ad group, on the "Create ad group" page that appears,.
9. Click Save ad group Understanding keywords
Keywords:
Keywords are the words or phrases that searchers enter into search engines. They can also be called search queries.
Finding relevant keywords, Adding keywords in ad-group, Using keyword planner tool
Finding relevant keywords:
Niche keywords:
Niche keywords are the highly specific long-tail keywords that are appropriate to a narrow industry vertical. It is very important to optimize your site and your pay-per-click campaigns.
Following steps can be used for finding relevant keyword:
1. Use a Keyword Research Tool to Find Niche Keywords
2. Refine Your Niche Keyword List
3. Determine How Competitive Your Niche Keyword Phrases Are
4. Adding keywords in ad-group
5. Select Keywords in the type list.
6. Click Make multiple changes.
Choose a destination for your new keywords:
1. If you prepared a list of keywords as described above, select the checkbox to indicate that your keyword information includes columns
2. for campaign and ad group names.
3. Use the account tree, to select specific ad groups.
4. The list of keywords to be entered.
5. Click Process.
6. Assign headings to each column of data, if prompted. Verify that the headings are correct, then click Process.
7. Click Finish and review changes to see your pending changes.
8. Click Keep proposed changes, to add the pending changes.
9. Using keyword planner tool.
10. The Google AdWords Keyword Planner tool is a useful resource for building strong keyword lists and helping to get your PPC campaign off to a running start.
11. A feature within AdWords helps in marketing strategy for generating keyword ideas and bid estimations with the tools.
12. By using the AdWords Keyword Tool, you can search for keyword and ad group ideas, see how a list of keywords might perform, and even combine keyword lists to create new ones.
Understanding types of keywords, Broad, Phrase, exact, synonym & negative
Types of keywords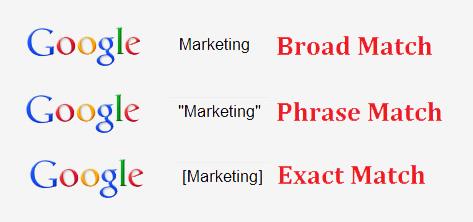 Broad Match:
Broad match keywords are used to reach the widest audience possible. Because of their broad nature, they are searched for commonly by a large number of people. This is a most usual type of keywords which were used while performing a search on google by the users.
Exact Match:
Exact match keywords are based on exact search queries and these exact match keywords are exactly opposite to broad keywords. With this exact match, the search queries must match with The search engine to direct the visitor to the website. one comparison with three types of keywords, the Exact match is most difficult.
Phrase Match:
Phrase match is more focused than broad match keywords but less than exact ones.
This provides greater flexibility in terms of getting visitors to our website.
The chances of getting visitors with exact matches are very low. We will be benefited by using border keywords to attract more audience to our site.
In this phrase match, the generation of traffic will be lower compared to broad match keywords and generates more visitors compared to exact keywords.
Synonym keyword:
We can use the synonym keyword tool when you have made your keyword list and want to squish the last keywords out of it.
Negative keyword:
These negative keywords are used to get prevent from accessing the ads with specific words or phrase. This makes ads invisible to users who are searching for specific keywords.
Creating ads – Display & destination URL
Display URL :
The webpage address is shown in green text with your ads.
Display URLs give people an idea of where they'll arrive after they click an ad.
Your display URL may appear in your ad with a "www." prefix in lowercase letters. If your URL begins with a subdomain, your display URL may include it.
Destination URL:
The Destination URL simply described as where users are redirected while clicking on the ads that is linked to website.
The final URL is replacing the destination URL as part of a URL upgrade. Now we can use both of them as landing page.
The domain of the destination URL needs to match the domain of your display URL.
The destination URL isn't displayed in your ads.
Tracking Performance/Conversion
Performance tracking:
A performance target is measured by specific metrics related to clicks or conversions for a single campaign group.
Conversion tracking:
Conversion tracking is a free tool that shows you what happens after a customer interacts with your ads, whether they purchased a product, signed up for your newsletter, called your business, or downloaded your app.
Importance of CTR in optimization & How to increase CTR
CTR Optimization:
Click-Through Rate Optimization allows you to increase Banner display rate in case it gets more clicks compared to other Banners of the same Campaign. Primary setup is done by Network Supervisor in the corresponding section of Network Supervisor account.
CTR Optimization for Search Engine Success
Keep in mind CTRs are a good measuring stick for search engine performance. You'll want to keep tabs on your content using Google Analytics to see if users actually engage.
How to increase CTR?
1. Start generating urgency with countdown timers.
2. Use ad extensions to increase visibility.
3. Use symbols to get attention.
4. Put the main keyword you're bidding on in the URL of your ad.
5. Call your readers to action to get the click.
6. Before writing a word of ad copy, get to know your audience.
Importance of quality score in optimization & How to increase quality score?
Quality Score:
Quality Score is Google's rating of the quality and relevance of both your keywords and PPC ads. It is used to determine your cost per click (CPC) and multiplied by your maximum bid to determine your ad rank in the ad auction process.
Quality Score mainly depends on multiple factors:
1. Your click-through rate (CTR).
2. In ad group, the relevance of each keyword.
3. Landing page quality and relevance.
4. The relevance of your ad text.
5. Your historical AdWords account performance.
How to increase quality score?
This Quality Score mainly used to determine where and how often ads appear. We can boost our quality score constantly working on our account.
This can be achieved by focusing on several key areas:
Keyword Research:
The main goal of keywords researchers, to collect high relevant keywords including long-tail to add in campaigns for getting bulk traffic.
Keyword Organization:
Split your keywords into tight, organized groups that can be more effectively tied to individual ad campaigns.
Refining Ad Text:
Test out PPC ad copy that is more targeted to your individual and groups. More effective ads get higher CTR, one of the best ways to improve Quality Score.
Optimizing Landing Pages:
Follow landing page best practices to create pages that connect directly with your ad groups and provide a cohesive experience for visitors, from keyword to conversion.
Adding Negative Keywords:
Continuously research, identify and exclude irrelevant search terms that are wasting your budget.
Importance of negative keywords in optimization
In the AdWords campaign, negative keywords are mostly used to get traffic based on the campaign goals.
A negative keyword is a word or phrase that will prevent our ad from being triggered if used in the search term.
The rules in Negative keywords are same as regular keywords, in that are used them for phrase match, exact match, and broad match.
This allows us to get creative and trim out specific types of traffic that we do not want coming to a site.
Evaluating campaign stats
Have you created your own ads and then keep on track, how it's performing.
The Tracking statistics for evaluating campaign stats are used as follows clicks, impressions, and click-through rate to get started with. We have to focus on statistics to achieve our goals through our campaigns.
In Adwords account by clicking the Campaigns tab, we can keep tracking of our campaigns.
The statistics tables on our Ads and Keywords tabs under the Campaigns tab provide a complete, customizable view of all of our data.
Creating the Display Campaign
These display campaigns are automated. Then optimize targeting, bidding, and ads.
Set up your campaign
1. Sign in to your AdWords account.
2. Click your Campaigns tab.
3. Click +Campaign and select Display Network Only.
4. Name your campaign.
5. Scroll down and check Smart display campaign.
6. Select language and geographic targeting for the campaign.
7. Enter your daily budget and CPA bid.
8. Click Save and Continue.
Types of display campaigns- All features, Mobile app, Remarketing, Engagement
Mobile app engagement:
Mobile app engagement campaigns are a great choice if you're focused on finding folks interested in your app content, getting people who have installed your app. For counting conversions, bidding and targeting, these types of ads allow flexibility.
Mobile app remarketing:
Mobile app engagement campaigns target remarketing lists in order to find just the right audience for app engagement ads.
The difference in search & display campaign settings
Search campaign:
The search network is likely what comes to mind when you're thinking of AdWords. It might help to think of the search network is equal to search engines.
Within the Search Network, it's possible to choose between Google search and Search partners. The Ask.com and AOL.com are the examples of search partners in Google lists.
These ads are targeted based on the keyword(s) users select as their search query. It is only possible to run text ads on the Search Network.
Display campaign:
The Display Network, which, up until recently was referred to as the Content Network, or, as I like to refer to it, the "Wild Wild West is a gigantic network of websites that have Google AdSense enabled.
Ad-scheduling & Ad-delivery
Ad-scheduling:
The Ad Schedule object, also known as the Dayparting object used to target search campaigns, enables you to show an ad on various days and various times of the day.
Set multiple schedules for a given campaign or ad group. You can also specify the bid modifier to be applied to the ad schedules.
If no schedule has been set, your ads are eligible to show in all relevant auctions throughout each calendar day.
Ad-delivery:
In Ad-delivery, the setting determines the accessing of budget with accelerated and standard in every day by the google. This setting effects are seen on the day of ads shown.
For every ad campaign, these delivery options were used for the ads in that campaign:
Standard delivery:
It tries to show your ads throughout the entire day to make sure that you don't spend your whole budget in the morning and cause your ads to stop showing for the rest of the day.
Accelerated delivery:
It tries to show your ads more quickly until your budget is reached. With this option, your ads can stop showing early in the day if your budget is spent.
Understanding ads placement
An advertiser choose a place for posting ads in specific group of ad units by using placement targeting is known as ads placement.
Ad placements can be as broad as an entire website or as specific as a single ad unit.
This Placements are classified into two types which are made visible to advertisers. They are placements which are created manually and Placements which are automatically created by the system.
Creating text ads & banner ads using tools
Text Ads:
Text ads on the Search Network show above and below Google search results. A text ad on Google search is the simplest online ad that AdWords offers. It has three parts: headline text, a display URL, and description text.
Creating text ads
1. Sign in to your AdWords account.
2. In the page menu on the left, click Ads & extensions.
3. Click the plus button + and select the "Text ad option.
4. Enter a Final URL, headline text, description text, and text in the optional "Path fields. you can have a "Ad preview of ad in a mobile and desktop version for instantly.
5. When you're satisfied with your new text ad, click Save ad.
6. Uploaded image ads: Upload image ads after you create them outside of AdWords.
7. The size of the image and appearance is adjusted automatically. This adjustment can be chosen alternatively.
8. Creating image ads
9. Sign in to your AdWords account.
10. On the expandable navigation panel on the far left, make sure you're at the "All campaigns or "Display campaigns level.
11. Go to the "Ads and extensions" page and click the plus button +.
12. Select the ad template you'd like to use, or select Upload display ads.
13. Create your ad with the template or upload it.
14. Click Save.
Understanding Remarketing
Remarketing is mostly used to connect with visitors for giving an immediate response to their queries from the website.
It allows you to position targeted ads in front of a defined audience that had previously visited your website as they browse elsewhere around the internet.
With the help of Google Adwords, the remarketing ads are managed and delivered in the form of image display format or a text format.
A growing number of ads are becoming animated including video formats. Image animation in display ads is usually achieved by using GIFs or HTML5.
Setting up a remarketing campaign
1. Set up a Google Search Campaign
2. Pick the keywords you want to target
3. To target, pick the remarketing list
4. With this remarketing lists, the targeted keywords of ads are shown to visitors.
Creating Remarketing lists
Use remarketing lists to show ads to people who have visited your website before. This article explains the steps you'll need to follow to create a website remarketing list.
1. Sign in to AdWords.
2. To open the Shared Library, click the tool menu.
3. Click Audience manager.
4. Click Audience Lists.
5. click the plus button and select "Website visitors, to add a website visitors list.
6. On the page that opens, start by entering a descriptive remarketing list name.
7. Choose a template from the
"List members" drop-down menu.
8. Select a set of rules from the "Visited pages drop-down menu options. For the web pages add conditions, to collect the cookies from the visitors for each menu option. Then click ADD.
9. Enter an initial list size, which is the number of visitors during a set period of time. You can increase your initial list size by including people from the last 30 days.
10. Enter a membership duration, which is how long you want a visitor to stay on your list. You can change the membership duration at any time.
11. Enter an optional description of your audience.
12. Click CREATE AUDIENCE.
Custom audience
A Custom Audience is created as a customer list from the existing customers.
You can target ads for the particular audience which you've created on Facebook, Instagram, and Audience Network.
By importing hashed customer list, this list is to match the people on facebook with the list which was created.
Free Notes on Latest SEO ON Page SEO Techniques & Latest SEO OFF Page Techniques Available here
Looking for video content? Subscribe to our YouTube Channel