Content Pruning SEO: Meaning, Benefits – Complete Guide [2020]
Here is the Complete Guide on Content Pruning SEO that covers the meaning, benefits of Content Pruning in SEO rankings.
What is Content Pruning? – Content Pruning Meaning
Content Pruning is the process of removing old content / outdated content that has little to no value to your business from your website. Besides, it also involves the process of removing content from being indexable by search engines. Let us discuss with live examples.
Content Pruning can be compared with that of a plant pruning. Usually, Gardeners prune the low-quality branches of the plant to improve plant health and also avoid decay or even death. The same approach can be implemented with content pruning. Identify the underperforming, low-quality content articles and prune them from your website to shed light on newer and more relevant content for your users.
Your business has a website. Traffic has been steadily increasing over the past few months and you decided to target new keywords and ramp up your publishing schedule. Then you hit a barrier of steady traffic lines.
You would be confused and question yourself, what's going on? You check out from a technical point of view and finds it fine, so you move forward and keep publishing.
Weeks and months go by but traffic still is not growing. Then you find it high time and conduct a content audit and shocked to see a lot of underperforming content.
In SEO, there can be 'N' number of reasons behind why your content is underperforming. It might be because of not targeting the right keywords, robots.txt blocking off sections of your website and the list goes on. As the SEO community says, "it depends".
After you see a lot of underperforming articles far outweighing the high and average performing ones, it's time to look at solutions. One of those solutions would be content pruning.
History Of Content Pruning:
Most of us think content pruning is a recent advancement. Not at all! It dates back to 2011 when Google released its Panda algorithm update which was aimed at devaluing "lower quality" websites, particularly content farms.
Google algorithm updates like ever raised concern in the SEO community with this update. Business who scared that they would be hit from this update began removing large quantities of content from their websites.
John Mueller, a webmaster analyst at Google gave more clarity in his YouTube video to remove some fear regarding the update. He mentioned that Google had seen a lot of websites with tons of thin, low-quality aggregate content and low-quality user-generated content. John suggestions helped SEOs focus their content pruning more strategically rather than pulling bulk quantities all at once.
Update Old page or Publish New page: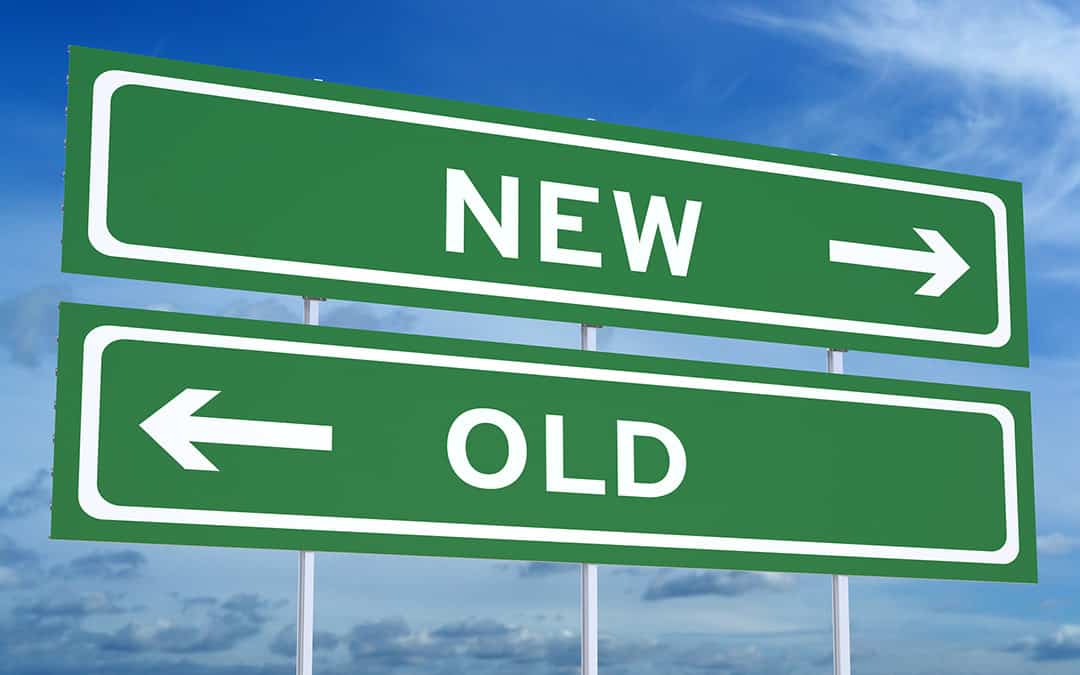 One of the most recurrently asked questions in the community of SEO is about whether to update an old page or to publish a new page. As per the current situation, Most of them had shown their interest to update the older pages. The reason for it is that the old pages already have ranked and re-ranked, along with the user behavior history and other ranking signals. So, a new page needs to start from scratch whereas old pages are already published and ranked. To back the above-said approach up, SEOs generally report good reports doing maintenance for old pages. If you have a new website and want to rank it in SEO, read our article on how to rank a new website
Content Pruning Benefits by updating old content:
1.Improved CTR:
CTR stands for Click Through Rate. When you update content, the most immediate effect will be replicated on the CTR in SERP (Search Engine Result Page). Users are naturally interested to know the latest information. In search results, when they are presented with multiple results, they usually tend towards the recent one.
Some users who are desperate about recent trends, they use some search tools and ask the search engine with their required levels in the freshness of the content.
2.Top Rankings:
When you update the old piece of content, the search positions will also be improved. The change can happen due to several ranking factors which are triggered all at once. For anything outside of news and trendy topics, the most obvious one would be content freshness. But the improved quality of content and influx of user behaviour signals like clicks, comments, and shares can also be a part of the reason for the change in the search position.
3.Fewer Resources:
Update and republish of old pages will be a great time saver. Research is already done, the structure is fixed, and most of the page remains unchanged, so the effort from your end is minimal. Moreover, the time taken to update four old pages will be equal to create one new page from scratch.
Besides our new pages, the updated pages would be equally popular among our users. So, with fewer resources, you can perform possibly even better.
4.Value Addition:
Creating a new page is an intensive process. There will be a lot of pressure to meet the deadlines and to create a product that is good enough. But when you update old pages, you get ample time to focus on all the extras that can be added to make it better and take it to the whole other level.
Most of the time, you might have startled looking at your competitor's page and thinking about the amount of effort they had gone through for an impressive output. The fact is that those pages might have gone through multiple iterations and took several years to make. Instead of being stuck with the old basic content, you can update and make the content more valuable.
Things to look for to find old pages worth updating:
There might be around a hundred of pages available on your website, you have to choose the pages which would be worth considering to update. There is a method to guide you in the process of selection and some pages will give much better results than the others. The things to look for are:
1.Evergreen content: To update the pages, we need to consider a topic that's still interesting even today. First, think of your pillar pages which are good to go at any time. Then consider seasonal posts that can be updated periodically. And finally, posts that relate to the recent trends and events in your domain. Make sure your articles rely on major google updates to get a big hit.
2.Slightly Underperforming content: There is no meaning in updating the pages that are already ranking top 3 or 5 search results. At the same time, there is no point even in updating the pages that rank at the bottom-most. The ideal pages are the one which is at the edge of gaining visibility and requires a little push. To list down those pages, open Google Search Console > Search Results, filter your ranking keywords that range from 15 and up. Work on those pages and get a better reach.
3.Fairly forgotten content: If you plan to update your subscribers regarding the updated content, make sure that it should not be something that they'd easily remember on your website. The thumb rule is not to republish any page that is lease than a year old. By looking at the lifetime of your subscribers, you can choose when to update what content.
4.Timeless URLs: The URLs that are not updated timely along with the title of the page are generally considered as a bad user experience. The title says Top 10 mobile phones in 2020 and but URL looks like /top-10-mobile-phones-in-2018
In such cases, some users may find your content untrustworthy. If you have made freezing URLs in time, then you need to redirect the pages to newer versions.
Checklist to add value to updated pages:
The old pages are updated not only to deliver a good user experience to your users but also to convince the search engine that the page has made meaningful improvements. Below are the things that add value to your pages. They are:
1.Change the date:· In the current days, the best practice is to keep the original date and add the last updated date to your content. The best approach is to add the word "updated" to the title or a disclaimer at the top of the page. So, it won't create any false expectations from your subscribers.
2.Update images: When compared with content, images get deteriorated much quicker. So, make sure that your images don't display outdated interfaces, changed skylines, older product models, and dated cultural references. To compress, resize, design the images at free of cost using Canva website.
3.Check links: Check out all the links on your website whether it leads to the intended destination or not. In case it is missing, make sure to link them up. Going to every page and clicking on every link leads to manual labor. In the Website Auditor, go to Site Structure > Site Audit and check out the broken links section. There you will get the list of broken links.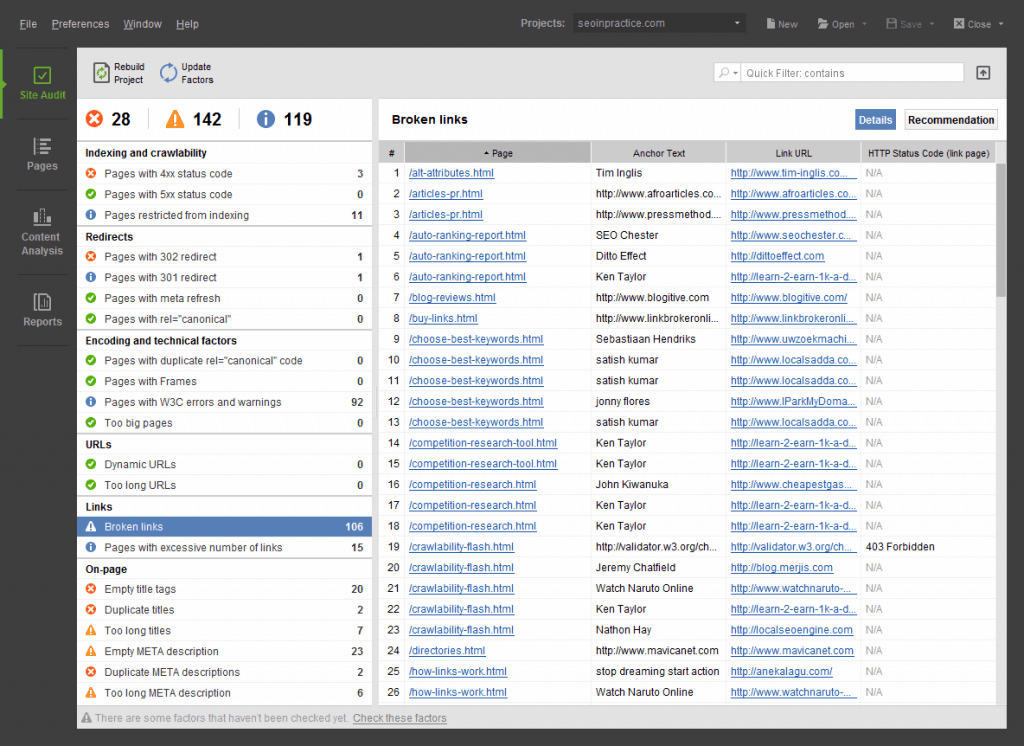 4.Improve content: The minimum you can do is to remove the outdated points and add recent developments. If you want to proceed further, you can check competitors' content and see if they have any new content other than ours, check the comments section for criticism and improvement suggestions.
5.Optimize keywords: The preference of keywords for a search engine is always dynamic. The keyword combination that worked fine a few years ago might not be the best choice today. So, you need to update content based on the current standard of keyword saturation. Launch the Website Auditor and open a new project for your website and go to Content Analysis > Content Editor. There you can add the page that needs to be optimized and get keyword recommendations based on your ranking competitors. Edit the page until you are satisfied with the optimization score. Once you are done, download the page and upload it to your website.
6.Increase the word count: Though word count is not a ranking factor, it is a good indicator to tell the expected depth of the content. In the Website Auditor, the content of your top competitors are analyzed and calculates the average length of their pages. You can benchmark your word count against those who are ranking currently in SERP. The word count is not a strict requirement, but it might mean missed some of the new points.
7.Manage comments: While updating the content, many of them get stuck whether to delete the comments or let them be. Some say that they demonstrate the user engagement and the others say that they reveal the true age of your content.
From the perspective of SEO, it is slightly proven that comments have nothing to do with the rankings. Neither having the older comments doesn't have adverse effects on the user nor deleting them leads you to any risks. So, you are free to keep them as you like.
8.Republish and promote: The last step is to deliver the updated content to your audience. If you have an active subscriber base or social media following, you can post about the updated page and get some traffic to your page.
Approach to incorporate updated posts in the content plan: content pruning seo
There are two basic approaches to incorporate the updated posts in the content plan. They are:
1.Retroactive approach: This approach is for those who have a large number of old posts and want to improve them going forward. Firstly, you have to audit your content to find the posts with good update potential. Make a list of those posts, splice them into your content plan.
2.Proactive approach: This approach is for the post that contains evergreen content. Mark it down for a future update. A year or two from now, add it to your content plan and set up a  reminder in your calendar. Jot down all the random ideas and update it with plenty of improvements when the time comes.
Content Pruning SEO: How to boost SEO rankings through Content Pruning?
Google has some factors listed to measure the overall quality level of each website to rank them in SERP (Search Engine Results Page). If you are a beginner, learn SEO basics. If you are intermediate, learn the latest On-page SEO techniques and latest OFF Page SEO techniques. Let us discuss how SEO ranking will be effected with content pruning with an example below.
Pages with higher visibility in the SERPs appear above the waterline i.e., in the first Google page. The middle section has very little visibility but most of the pages have high potential. The lowest section is the cruft which keeps the other pages from being more visible. Remove the bottom half of the iceberg and rest of all will rise, making more of it visible i.e., in the first 2-3 pages of Google. 
The above "Before Pruning" triangle represents all the content that can be indexable on a domain with a QR of 30. The sitewide QR score of 30 comes by adding all the three sections together and dividing by three. In reality, this would not be so simple.
The above "After Pruning triangle" represents the same website after pruning the bottom 50% of the underperforming content from the index.
Final Thoughts: Content pruning seo
Content Pruning SEO is often overlooked strategy in the SEO community. It saves time exponentially, a guaranteed boost in rankings and provides a superior user experience.