OFF Page SEO Techniques 2020
In this chapter, we will learn OFF Page SEO Techniques for 2020. SEO grows and updates regularly. OFF Page SEO is a very important part of your website rankings.
OFF Page SEO Techniques are used to improve ranking of the website within the search engine results page. This OFF Page SEO Techniques are beyond the website development & designing.
Most of them say off-page SEO is based on link building but it has much more to work with.
Latest OFF Page SEO Techniques:
Local Listing – Map listing – Business Listing: Here work on Integration of business on Google My Business and creating accounts on multiple platforms like justdial, sulekha, etc.,
Classifieds listing: Classified Listing comes under Free ads or paid ads post websites like Quikr, Freeadstime, postforads, etc. These sites help us get promotion for a business or a service.
Directory Submission: Directory Submission sites accept paid & free Listings. Here in Directory Submission sites, we can find Submit url, Add url, etc. Once after clicking on that we will be redirected to form which needs to be filled with Title, URL, Keywords, Meta Description, Description, Name & Email, etc. After that click on Submit. Here we will get a message saying "Link submitted successfully".
Social bookmarking: Social Bookmarking sites are similar to Social Media Profiles. Here we need to create Accounts on each and every website by clicking on the register. Once after registration, click submit, add URL & enter details of the website. At last click on submit and continue. Link are added on that particular website and can be seen on your profile.
Guest Blogging: Guest Blogging helps us get Backlinks from High Domain Authority websites. Here we work on approaching different Guest Blogging websites and write articles for them based on their guidelines then submit with a link.
We Can use – Keyword + "Guest Blogging" or Keyword + "Write to us" for finding guest blogging websites.
For Example: Digital Marketing +"Guest Blogging"
Blog Commenting: Here we work on Blog commenting with a url which we are working on. We can search for Keyword + "Blog Commenting" to get related category results. Keywords must be related to your business or service-related.
For Example: Digital Marketing + "Blog Commenting"
Forum commenting: Forum Commenting Sites are similar to Q/A sites but here we will create a signature for each profile with a URL. Whenever we answer, we will get a URL as a signature below.
Events listing: Events Listing websites help us to post info on Events that are held at specific with registration form & payment gateway.
Press Release: Press Release websites allow you to release a note or broadcast news within that website. Press Releases websites provide paid & free submission.
Social Media Market: Keep Tracking of Engagement in social media & links of Social Media Profiles on websites are active for better engagement.
Web 2.0: Web 2.0 websites work great for creating dummy websites or subdomain websites. Here we need to write unique content for dummy websites and give backlinks to the main domain within the content.
Podcast submission: Websites work great for creating dummy websites or subdomain websites. Here we need to write unique content for dummy websites and give backlinks to the main domain within the content.
Video Submission: Video Submissions are nothing but submission of videos on that particular website with a link. For example youtube, vimeo, etc.,
Pdf Submission & ppt Submission: Pdf & ppt Submission websites specially designed for submission of PDF & ppt format documents of particular topics.
Image Submission: Image Submission sites like Pinterest are designed for submission of high quality images with an url.
Paid Backlinks: Getting links from different websites by making payments for backlinks or an ad with a backlink from that particular website. Here we can get links from high DA websites.
Competitor Backlinks: We can track Competitor Backlinks on a tool like Ubersuggest, Ahrefs, Semrush, etc.,
For Example Ubersuggest
Here we need to enter a competitor Domain or URL, select country location and then click on search.

Ubersuggest will fetch info of that website, keywords, DA, no.of Backlinks, Site Audit and Traffic of that particular Website.
Once after clicking on Backlinks- we will get a complete backlinks list with a Domain score, Page score, Link Type, Anchor Text, etc., of that particular website. Here for Competitive analysis, we need to track each URL and submit the URL.
Link Building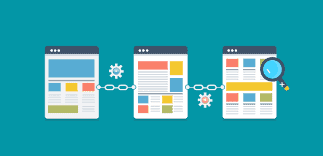 Link building is defined as building external links for the website.
main aim of using link building is to get as many links as possible to get higher rank, compared with competitors.
Linking Building Methods
Link building methods are the important OFF Page SEO Techniques in 2019. Some of the ways which help in increasing link building are:
● Directory submissions:
● Social Bookmarking:
● Guest Blogging:
Guest blogging method is used by owners to increase traffic to their sites. Guest bloggers offer others to write content on their site, to increase engagement on their sites. We can also provide have one-way link building through this sites.
Blog Commenting:
Press Release
7.3 Do Follow Vs. No Follow

Do follow:
All links are doing follow links by default, unless they are modified manually or automatically by chaining the website setting to be no follow links.
Search engines crawlers follow do follow links.
No follow:
No Follow is an HTML attribute. No follow is assigned to a hyperlink that instructs the search engine crawler that should not be awarded as SERP boost for the targeted page.
Important OFF Page SEO Techniques:
What is Domain Authority?
How to increase Domain Authority?
Domain Authority:
Domain Authority is mainly used to find the Domain Range. In SERPs, this Domain authority will have a high priority. This DA mainly based on three factors like Age, popularity and size.
Domain Authority is developed by MOZ to find how well a website is working on SERPs. It is mainly used to determine the Search engine ranking score. Domain Authority ranges from 1 to 100, where high DA rank have a scope to rank on SERPs.
Domain Authority is multiplied based on multiple factors like root domains linking and total number of links within a single DA score.
Generating Links from QA sites
To create backlinks from Q/A sites, there are 2 main ways.
1. Linking back website through your public profile.
2. Linking back website through a link in your answer.
Most Q/A site No follow their external links; it doesn't mean they are useless.
● If you get a top most answer to widely viewed question, they there will high scope to get more referral traffic.
● If you are focusing on backlinks as a secondary goal, then try to give genuine answers to the questions. We can create wonders with personal branding on Q/A sites.
1. Google webmaster Tool or Search Console
2. MOZ Tool
3. Majestic Tool
These are the main OFF Page SEO Techniques 2019.
For more free content subscribe to my
youtube channel
You can also follow me on
My Facebook Page
Next chapter – Latest ON Page SEO techniques