Best Cloud hosting for wordpress websites 2020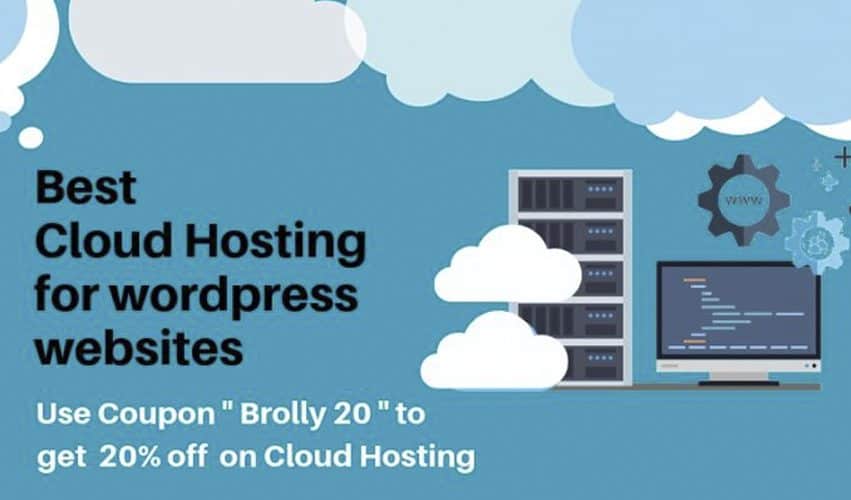 Being a digital marketer, I have been creating WordPress websites from 7 years now. With the experiences of creating more than 100 websites in the last 6 – 7 years. I think I can suggest you guys, the best Cloud hosting for WordPress websites in 2020
I always suggest you go for a cloud hosting instead of shared or dedicated hosting. Most the WordPress hosting services are hosted in shared hosting spaces. Hence I don't prefer them too.
Cloud hosting always has the greatest advantage of Speed and performance hosting for WordPress websites when compared on Shared Hosting or Dedicated hosting.
Best Cloud Hosting for WordPress:
The best cloud hosting for WordPress websites is Digital Ocean using cloudways. I have been using the digital ocean from more than 3 years now, and I'm very happy with the performance of these websites. The cheapest plan in Digital Ocean starts with 5$ per month.
what do you get for 5$ on Digital Ocean?
Memory – 1 GB
VCPUS – 1
Storage – 25GB SSD
Transfer/bandwidth – 1TB
You can upgrade whenever you want for more memory, vcpu, storage or bandwidth.
However, you need to use a tool like a server pilot or cloudways that helps you manage your Digital ocean Cloud hosting.
Serverpilot pricing:
Serverpilot was giving free accounts before, but now they made it a premium with a min slab of 5$ per month plus half a dollar $0.5 extra per website per month. Though I like the Free SSL, 1 click WordPress installer, database management, multiple PHP versions, and many others, – I'm not picking it just because the charge me per websites which isn't great for people that run multiple websites.
What is cloud hosting?
Cloud hosting is a type of internet hosting service, allows organizations and individuals to access their websites. Web hosts companies provide space on a server which can be owned or leased by clients.
Big Companies need to be permanently connected to the server to send their files, emails, etc to other sites. Many companies use computer as a website host to provide details of their products for online orders.
There are many different types of hosting here we list out some of the hostings Shared web hosting services, Reseller web hosting, Dedicated hosting service, Managed hosting service, Cloud hosting, Clustered hosting, Grid hosting, Home server. Here we discuss in detail
Shared web hosting service: The website will be placed on the server where you have to share the resources with other websites, it's like too many domains in a common pool. The available features with this service are basic and it is not flexible in terms of updates
Virtual dedicated servers: VPS divides resources into virtual services and resources can be allocated and they do not reflect the underlying software. Users have root access to their own virtual space and sometimes users are responsible to maintain their own server.
Dedicated hosting service: the user will have full control over the webserver, the user does not own the server, this type of hosting is self-managed basically they are very less expensive.
Managed hosting services: the user gets the website but not allowed to control it, they are allowed to manage the data via FTP. the user is disallowed because the provider can give quality services to the user by not allowing the user to modify the server.
Natural disasters, power disruptions are less problematic for cloud hosting sites.
Why you need cloud hosting?
Cloud hosting is a very flexible service, website owners and many businesses started using cloud hosting. Cloud hosting seems to be expensive compared to other hostings, but when you consider features of cloud hosting, it is more affordable for enterprises and businesses. In most of the cases, cloud hosting has pay as you go system. So instead of monthly charges, you have to pay the resources you have used during the time.
Website loading time and speed
The time taken by the website to open the website has a great impact on rankings. Website loading quickly will have much impact on the visitors as well as the business. It makes a unique technique for effectively distributing online resources, there is no denying fact that choosing cloud hosting will help you in getting better results.
Hosting location
Hosting location plays an important role and it is considered as one of the important factors, in ranking the website. In calculating the website pages rank search engines give high priority to the servers that are locally hosted. Before the introduction of Cloud hosting, owners of the website use to buy many domain names to cater geographical locations. At a low cost, you can make many sites. To improve the ranks of the websites, lost hosting with the help of cloud have better chances.
Privacy concern
Cloud hosting is known to be one of the most secured web hosting solutions for any business. At present, it is the biggest concern of most business organizations.
Most enterprises are a majority of the small and medium-sized businesses that have been using the cloud for years and the number of companies using cloud hosting is increasing. The small and medium business and enterprises are moving the workload to the cloud, including their most sensitive data.
Cloud hosting is secure from various cyber-attacks and natural disasters. It offers backup and restores data. Google, Microsoft, Amazon provides reliable cloud services for the consumer files. the cloud hosting typically stores three copies of data in different places. The cloud is a great place to store data.
Bots Protection
When you sign up for cloud service, the cloud hosting service will give you an assurance that you receive protection from bots. The Bots can infect and harm the website's rankings, many people are unaware of the bots and do not know how bots will damage.
There are many bots but you need to know about a particular bot that is called a scraping bot, these bots can duplicate your content. If this happens to your site it affects your site rankings. If you use cloud hosting service, they will give protection from these kinds of bots
Mobile phone capability
Currently, mobile phones are dominating the entire trend, this is why the SEO strategies you frame to your website need to have mobile access.
Easy recovery
Data loss risk is the problem of every business, saving data in a local computer comes with a greater risk of losing it permanently with an unexpected error. Most Cloud providers protect their user data in different locations, this is done to prevent data loss in case of an unexpected error.
All the companies are showing interest to shift their operation toward the cloud. In the twenty-first century, everything is running on the cloud. The cloud hosting fully managed and you will get a 24 into 7 support.
Any time shared hosting can be upgraded to cloud hosting and it is an easy process. From the control panel if you order an upgrade then it will be updated automatically the difference between the Shared hosting and the cloud hosting is Shared hosting hosts multiple sites in one dedicated machine and users will share the resources with other servers on the machine. They provide a dedicated resource.
Cloud Hosting benefits
Price: in cloud hosting you only pay for what you use, in other hostings you have to pay monthly, if you use the resources or not.
Technical issues
Your site will be using multiple servers, you can transfer to another server if it goes offline or technical issues.
Faster website speed
Most cloud servers offer you fast speeds and you can manage your content load in multiple servers.
Easy Dashboard
With today's hosting, you can easily manage, you don't need a technical person to manage.
Backup and restore data
Once your data is stored on the site it is easy to get back, which is a time taking process on shared hostings.
Automatic software integration
In the Cloud software integration occurs automatically, you don't need to put efforts to customize and integrate your applications as per your preferences.
Mobility
Employees who are working at the premises at the remote locations can easily access the services only thing they need is internet.
Unlimited storage capacity
The Cloud offers you limitless storage capacity and at any time you can expand your storage capacity.
Security
Security is an important concern of most of the website owners, the level of security that web hosting services offer is very important.
Cloud Company offers you a promo code and you can apply the promo code and unlock the discounts. If you are googling the coupon codes you are probably missing the most savings.
We offer you the latest deals to save maximum money. Get the exclusive offers provided by us. Choose exclusive deals and estimate the price of hosting. Be smart and select the appropriate coupon code to make your purchasing cost lower.
Cloudways is the best cloud WordPress hosting platform that let you choose the cloud hosting that you want to choose since we have already decided to go with Digital Ocean, you can choose digital ocean
If you pick cloudways and use a single server from Digital Ocean, it costs you 10$ per month that can help you host multiple WordPress websites just at $10 per month. You also get FREE SSL for all your WordPress websites that are hosted on your cloudways platform. Free SSL for all the websites saves money.
Want to save more, use "BROLLY20" coupon code to save 20% on your first invoice.
Looking for a domain Offer? get it here
SUBSCRIBE to our Youtube channel for more information